Kira

On the cover of Gathering Blue
Age
15 (in Gathering Blue) Adult (Son)
Gender
Female
Hair
Black
Allies
Katrina, Matt, Matthew, Christopher (Seer), Jonas, Annabelle, Annabella, Thomas, Marlena, Jamison, Jo, Gabriel, Branch, Claire, Camilla
Enemies
Vandara, Trademaster, Matt's Mum, Jamison (after she figures out what he did)
Appearances
Gathering Blue, Messenger, Son
Kira is the main protagonist of Gathering Blue, also appearing in Messenger and Son as a secondary character.
Appearances
Kira is the main character of Gathering Blue. She was born with a twisted leg and is therefore partly disabled. She becomes a Threader.
Kira makes small appearances in the Village, while Matt is the main protagonist. Matt helps Kira to bring her to Village, when the borders were closing.
Now married to Jonas, Kira is a character in this book. She has two children, Annabella and Matthew.
Relations
Christopher (Seer)- Father. Kira was told by Jamison that his father was dead in Gathering Blue, but he was actually alive.
She has two children with Jonas: Matthew and Annabelle, named after Matt and Annabella respectively.
Annabella (Deceased)- Mentor
Trivia
Kira is a phenomenal basket weaver.
Kira has a twisted leg which is a birth defect, and caused everyone to think that she couldn't handle living in her home, so Kira temporarily became homeless.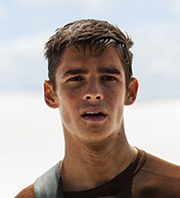 Ad blocker interference detected!
Wikia is a free-to-use site that makes money from advertising. We have a modified experience for viewers using ad blockers

Wikia is not accessible if you've made further modifications. Remove the custom ad blocker rule(s) and the page will load as expected.